The Grinds Academy Location:

2023/2024 Location: Maldron Hotel, Oranmore

To get directions click here.
WELCOME TO THE GRINDS ACADEMY
Welcome to The Grinds Academy, the language exam specialists. The Grinds Academy is a Language School of Academic Excellence. We have a proven track record. We cater for students who want to achieve their academic potential and achieve educational success.We are a specialised Grinds School providing tuition in ENGLISH , IRISH and FRENCH only.We provide WEEKLY and MONTHLY Classes and We are located nationwide.
Classes follow a strict course outline and are complimented by exam-focused notes and answers.
All students receive supplementary video content to assist with revision.
"The Only Grinds School in Ireland to use a blended approach to learning where students benefit from face to face and online expert tuition."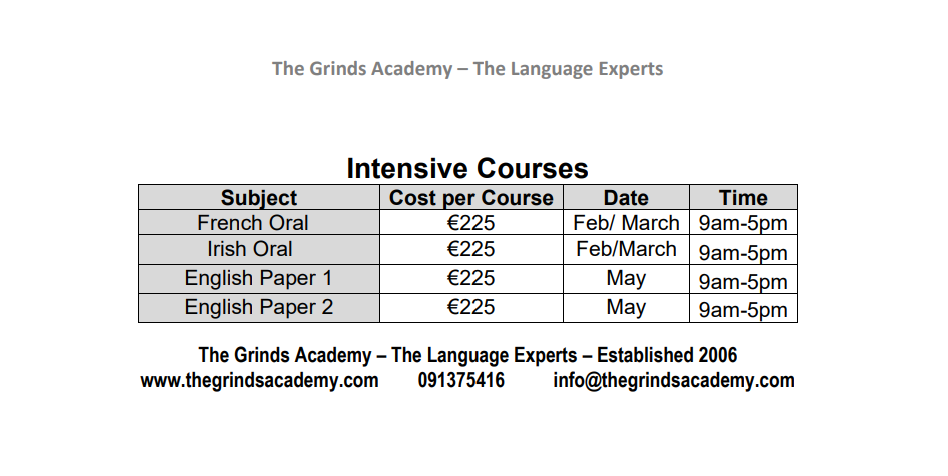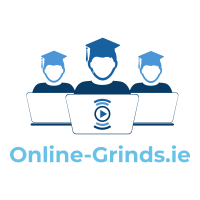 Interview with Robert Heaney (Principal)
Past Student Testimonials
EXPERIENCE
Exam Success. We are very experienced and experts at what we do. We forensically examine past papers, we get to know our students and we use a developmental approach. All teachers are fully qualified, state examiners, vastly experienced and members of the Teaching Council Of Ireland.
PLANNING
Unlike any other school, students receive a clear course outline for each subject for the year, which clearly outlines what exactly is on and when. This focuses attention and breaks each exam down into bite-size chunks.
SERVICE
All students receive Top Class Notes and Sample Answers with every lesson. A clear outline of what will be covered and guided assignments ensures students are as prepared as possible for the state exams. All students receive supplementary revision videos throughout the academic term to assist with revision.
CONVENIENCE
The vast majority of students attend more than 1 grind and avail of excellent discounts. Our Monthly classes cut down the amount of time traveling to classes also.
SUBJECT CHOICE
We provide tuition in English, Irish & French, subjects that need a lot of attention. All three subjects are very subjective. We ensure students are enabled to stand out from the crowd and succeed in their respective exams.
VALUE
We deliver true value to our customers. Quite simply, our prices are unrivaled.